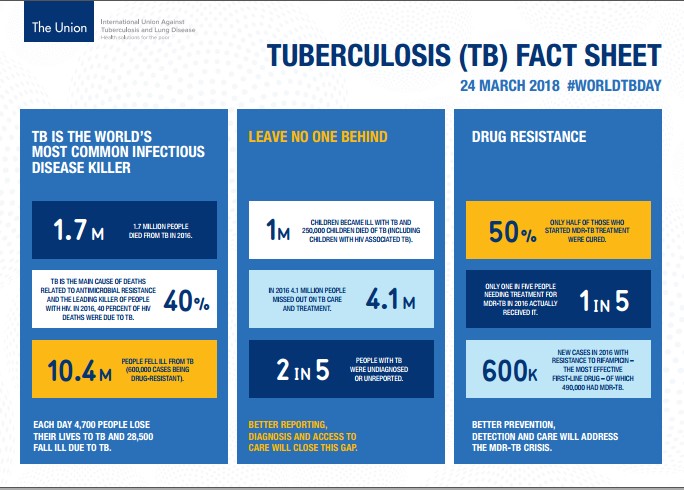 The World Tuberculosis Day is marked every year on the 24th of March to raise awareness on the burden of Tuberculosis and stop the global epidemic. This year's theme is "Wanted: Leaders for a Tb free world".  It seeks to draw political and social commitment towards ending the epidemic of tuberculosis.
Tuberculosis has been an age long infection that everyone is at risk of contracting. However, some groups of people are more prone to becoming ill with the disease. This includes the poor, and the marginalised (example the migrants, refugees, prisoners, those with HIV). For migrants, refugees and prisoners, this is due to their exposure to poor housing, poor nutrition, and poor access to medical care among other factors. For those with HIV infection, this is due to suppression of their immune system. The WHO estimates that in the last one year over 10 million people fell ill from tuberculosis and almost 2 million died of it in 2016.
Effective control of Tb requires early detection and treatment and completion of treatment. Research evidence is required to know what best strategy to apply within settings to facilitate early detection and adherence to treatment. The Cochrane Library published by the Cochrane collaboration has some evidence on what strategies work and to what extent they work.
Cochrane evidence has shown that active case finding (house-to house screening of persons or providing outreach stations for screening where people live and work) may increase early detection of cases in settings where there is high number of undiagnosed cases. However, evidence to confirm that active case finding among seemingly healthy people who are in close contact with those ill with Tuberculosis (who are believed to be more at risk of contracting the disease) is lacking.
Current Tb treatment requires uninterrupted taking of medications for six months. Some people stop taking their medications particularly when they feel relieved of their symptoms. This poses a risk of the person's symptoms relapsing, development of resistance to the medications, and the spread of drug resistant tuberculosis to others. Some experts reviewed available evidence on utilising reminder systems to improve patient's attendance at the Tb clinic. Results showed that reminding clients to come for their medications before or after their scheduled visit through phone calls, letters, or home visits may likely improve completion of treatment.
As the World Tb Day is observed globally Cochrane Nigeria calls attention of the leaders to seek for evidence of effective approaches to ending Tb epidemic. High quality research (research with minimal error) is required to drive policy and care. Leaders are called upon to support evidence-based policies and direct the funding for Tb control based on available evidence. A lot of these evidence is available at the Cochrane library and access to the information is free.
REFERENCES
Mhimbira FA

, 

Cuevas LE

, 

Dacombe R

, 

Mkopi A

, 

Sinclair D

. 

Interventions to increase tuberculosis case detection at primary healthcare or community-level services

. 

Cochrane Database of Systematic Reviews

 

2017

, Issue 

11

. Art. No.: CD011432. DOI: 10.1002/14651858.CD011432.pub2.

Fox GJ, Dobler CC, Marks GB.

Active case finding in contacts of people with tuberculosis.

Cochrane Database of Systematic Reviews

2011, Issue 9. Art. No.: CD008477.

DOI: 10.1002/14651858.CD008477.pub2.

Liu Q

, 

Abba K

, 

Alejandria MM

, 

Sinclair D

, 

Balanag VM

, 

Lansang MAD

. 

Reminder systems to improve patient adherence to tuberculosis clinic appointments for diagnosis and treatment

. 

Cochrane Database of Systematic Reviews

 

2014

, Issue 

11

. Art. No.: CD006594. DOI: 10.1002/14651858.CD006594.pub3.